FROM INDUSTRIAL COMPONENTS TO MOTORCYCLES
The motorcycle division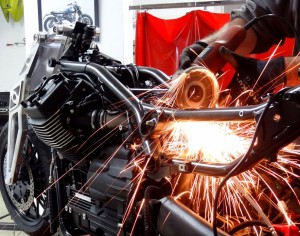 Walter Tosto's capabilities, versatility and flexibility make us possible to manufacture several kinds of products, for different industries and markets.
From the synergy between our expertise and passion, we created the new Motorcycle Division, in order to dedicate our know-how and resources to a new application which is very different from the company's core business, but recalls it at the same time. Indeed, all the pieces are created with our special materials or reshaped in order to refer to the industrial components or part of them. In this way, people can better understand our manufacturing activities, our high capabilities in mechanical working of metals, design and engineering. As a matter of fact, this project was not developed for business purposes.
Motorbikes have always been a great passion for many people of our staff, who used their skills to face this new application which represented an exciting and creative challenge for them.
The first motorcycle manufactured by Walter Tosto, with the precious collaboration of Officine Rossopuro, is the Lupus Alpha. Among the peculiarities of this unique artifact emerges the special materials which its parts are made of, the same used to produce items such as reactors, heat exchangers, waste heat boilers and so on.
Moreover, several pieces of the bike reflect our products shapes. For instance, the tubesheets used for heat exchangers inspired the Lupus Alpha rims, the handcrafted exhaust manifold is based on the waste heat boiler design and the titanium handlebar was obtained from a condenser tube.